About
"...I should have been left handed..."
It's a new way to ride. This binding system secures a rider in a seated kneeling position and mounts to any snowboard or other device. It is made up of a plastic tray, a removable foam contoured knee pad with a seat extension, and a set of retention straps that come together to provide the rider with a comfortable and controllable way to ride their favorite device.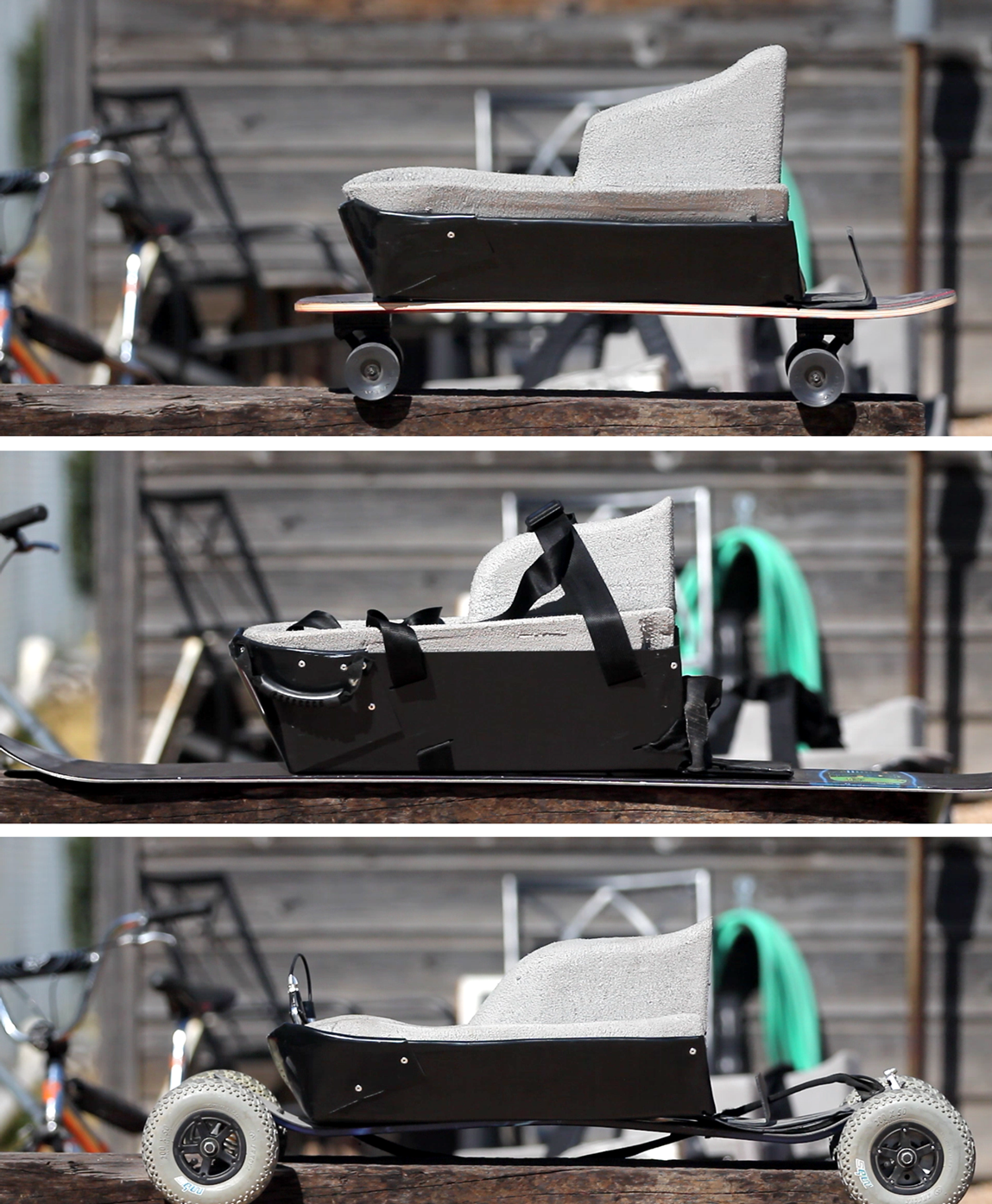 What is so special about the KneeFlyer?
Unlike a kneeboard for the water that forces the rider to sit on their ankles with their feet flexed back, the KneeFlyer's patented design has a contoured knee and shin cavity as well as a seat extension that supports the rider's weight up off of the ankles. The seat extension also acts as a lever for the rider to grip and lean on when turning and stopping, adding more overall control. The knee pad is also raised up off the board which allows the rider's feet to hang in a natural position. These features add more comfort and allow longer rides with less fatigue.
Oh, and getting buried in powder is epic!
Well, that is pretty fantastic! But what is wrong with normal snowboards?
Normal snowboards are great, except for the long, painful learning curve that most beginner riders experience. The KneeFlyer has almost no learning curve due to its low center of gravity! This allows the rider to easily balance and touch the ground with their hands. Using their hands, like a skier uses poles to push off, they can get going, right themselves when needed, and push through flat areas.
In addition, the rider's forward facing orientation on the KneeFlyer makes turning in either direction equally easy, unlike the sideways rider stance of a standard snowboard, which forces the rider to have a strong and weak side when turning.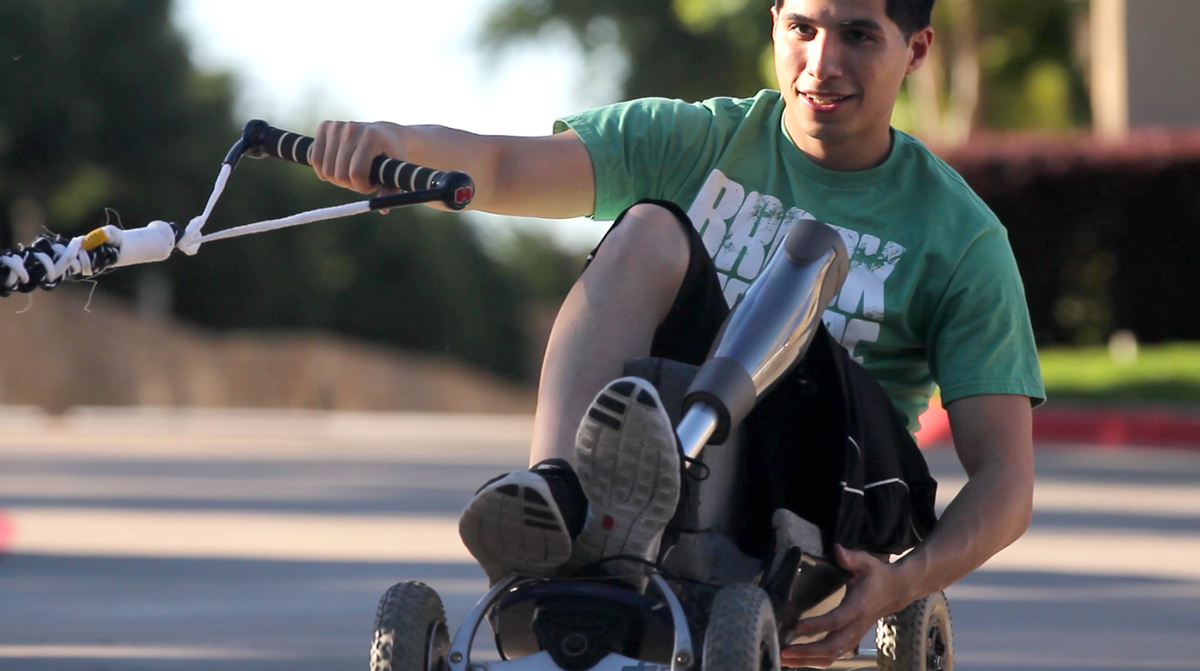 I'm sold, but if you had to provide two more details about the KneeFlyer that would make me extra happy, what would they be?
The KneeFlyer is designed to be ridden in a seated kneeling position, but can also be ridden in a seated position like a standard sled. Just secure the straps around the tray, turn the board around and sit in the knee cavity, wrapping your legs around the seat extension, and GO!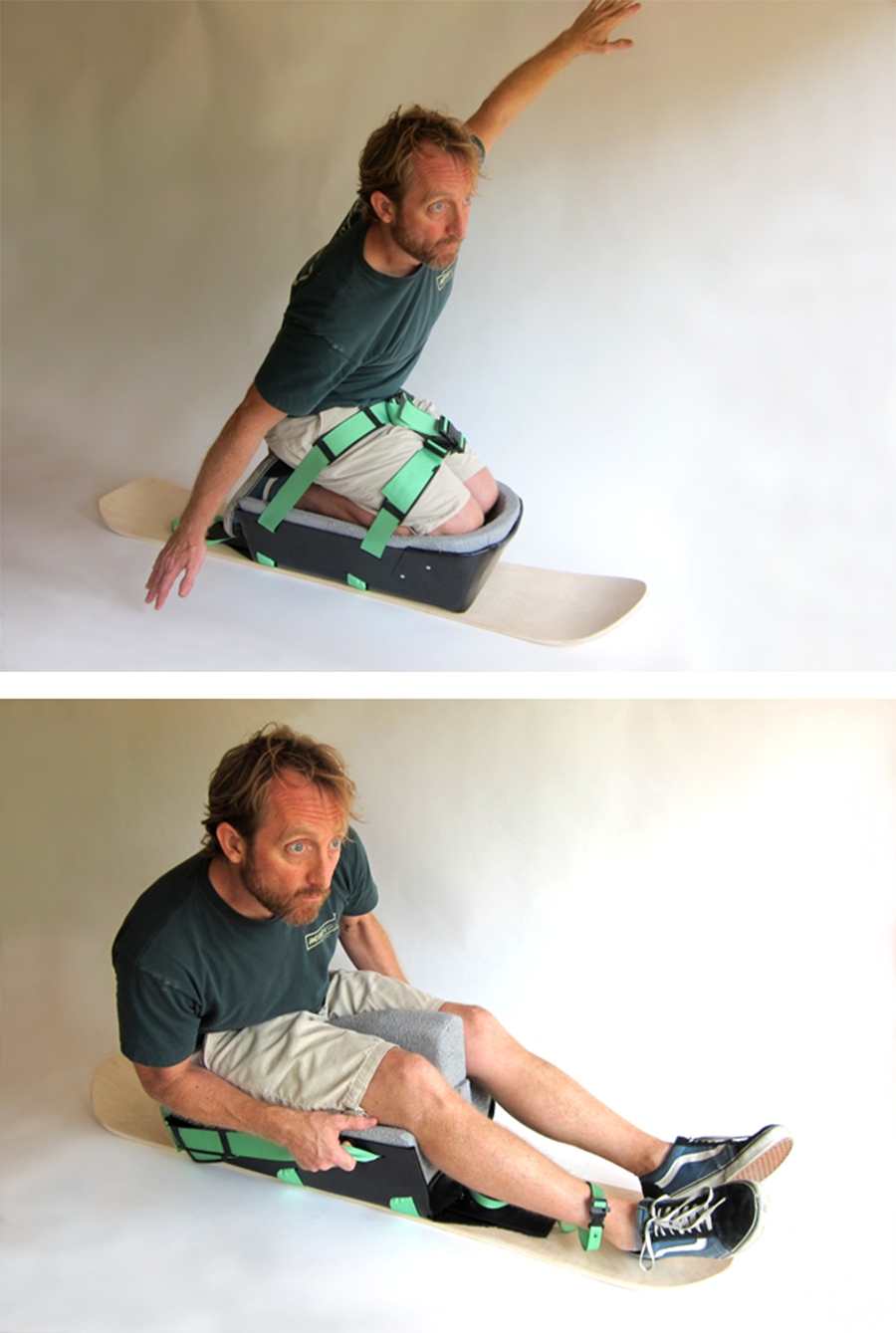 The KneeFlyer is a multi-seasonal binding system that attaches to a snowboard for the winter, your skateboard/mountainboard/longboard or other device for the remaining seasons of the year.